On a cool December morning, I sat down with Scott, better known as Coach Decker, to discuss his plans for 2017 and the moments and accomplishments that led him to this point in his fitness career. As a highly respected coach and recognized member of Arizona's martial arts community, Scott has spent decades teaching Judo, kickboxing and self-defense to the men, women and children of Phoenix. Now, he is ready to launch Coach Decker's online health and fitness platform to serve both adults and families throughout the US who are looking for a true training experience in martial arts, kickboxing, and self-defense.
As a Dad and Grandpa, Scott understands the importance of family fitness, bonding time, and confidence-building for young people. Coach Decker plans to bring his own brand of Judo family fitness to parents and their kids starting as young as preschool. Scott's 'Kata Kids' program seeks to grow with families as they grow, being part of the Coach Decker experience from their earliest exposure to fitness, into their teen and adult years.
The Coach Decker programs focus on important mindful and confidence-building philosophies, optimal form to prevent injury and maximize effectiveness, and customizable exercises that can be tailored to all age groups, fitness levels, and most health conditions. Everyone, including kids, parents, and grandparents, can participate in their shared journey toward happiness and health.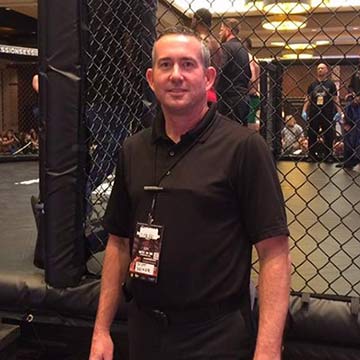 In this Q&A, you'll learn about the man, the athlete and the practitioner behind Coach Decker, as well as what his upcoming program will include.
Coach Decker: You're right. I was obsessed with martial arts as a kid. One of my earliest memories was going to the library when I was in kindergarten or 1st grade and checking out a stack of books about martial arts. I learned from the pictures in the books and started practicing at home.
I begged my mom to let me take Karate lessons, but she was very averse to violence, so she rejected my pleas for a number of years. It's a very common misconception that martial arts promotes violent behavior although the opposite is actually true. Martial arts is a wonderful training tool for kids because it teaches self-control, respect, awareness, consideration of others, and naturally builds self-confidence.
Coach Decker: Actually, it was a friend of our family who finally convinced her to give it a shot. He practiced Taekwondo and explained to her all of the benefits. Once she learned about the principles behind it and found out that I was actually a lot less likely to get injured in Taekwondo than sports like football, she got on board.
Well, first she made me a deal. She told me if I made the honor roll, then she would enroll me in classes. I took that report card straight to the Taekwondo dojo (school) and signed up.
Coach Decker: Until I was 16, the classes that I took were entirely decided by what my mom would allow. Then, I got my driver's license and my first job, and I could go to whichever class I wanted to – the whole martial arts world was open to me! The first thing I did was open the Yellow Pages and I found a man named Ken Corona, who would become my mentor, teacher, and friend. Our friendship continues today.
Ken specializes in Hapkido (very similar to the better known, Taekwondo), which is a Korean martial art that is primarily focused on self-defense. But, more importantly, he taught me the philosophies behind the practice of martial arts and instilled in me that the ultimate goal is the perfection of oneself. It doesn't matter what or where you learn, but that you learn. This is a lesson that I carry with me and pass on to my students as well.
Coach Decker: After earning my 3rd degree black belt in Hapkido under Sensei Corona, I set my sights on opening my own dojo. I enrolled in Idaho State University in 1993 and opened my first martial arts school in the back of a huge warehouse next to the railroad tracks where I would teach in between classes and after school.
As part of my full-time curriculum, I decided to expand my martial arts education by enrolling in Judo classes at the University under a teacher named Sami Tadahara. I became hooked and although I shifted back to Taekwondo to pursue Olympic aspirations, I continued my Judo practice long after college under my friend and mentor Steve Scott.
Coach Decker: While in Idaho, I had my sights set on the Olympics, so I decided to pursue Taekwondo again. I was successful at the state level and became the heavyweight Idaho State Champion from 1995 to 1997. I was invited to the Olympic training center to train with the other candidates, which was an amazing experience. In the end, I didn't qualify for the Olympics, but I reached a new height in my athletic career and gained another step toward my goal of self-betterment.
Coach Decker: Absolutely! My entire family started taking Brazilian Jiu-Jitsu together years ago. It's an intense practice that requires stamina to really compete, but my wife and I enjoy the skill and workout component of it and I hold a blue belt in it. My son, Jordan, started training more seriously as a teenager and eventually became the 2010 Junior WKA World Kickboxing Champion!
Coach Decker: It really is impressive. Online fitness has become a world of its own and I think that's terrific. Fitness is for everyone, no matter how old or young and what physical condition you are in. Web-based training is helping more people to stay fit because it is super convenient and helps to shed any excuses. You can find a workout to fit any length of time you have available, and to do something good for yourself without the hassle of dressing up and going to the gym.
Coach Decker: I serve a newly emerging segment of the online fitness community that is looking for more serious training. By that, I mean training that not only tones muscle and burns fat, but also teaches a skill. My students are people who enjoy the convenience of working out at home, but they also really want to learn how to train properly. While areas like Yoga and Pilates are starting to excel at in-depth and advanced online courses, opportunities for this type of training in Judo, Kickboxing, or Self-Defense are difficult to find.
I am here to bridge the gap by offering online training and workouts that focus on form and technique, and actually coach you through the process as if you were in a physical class. No longer do aspiring or established athletes need to go to a brick-and-mortar type establishment to get real results and learn their craft. They can get terrific training at home, whether it is their only training, primary instruction, or a supplement to their other classes.
Coach Decker: I don't want to ignore the people who want a good, quick workout, but I also know that real technique and training take time to learn. I will offer a range of courses that will vary according to who the students are and what they are trying to achieve. I want to offer my students several options:
Full-length courses that are just like my in-person classes where you get full explanations and workouts.
Workouts without as much explanation – at some point people will know what they are doing and will be ready to just warm up and jump in.
Specific technique videos that spotlight certain aspects of training for those who really like the nitty gritty details and want to take their training to the next level.
'Kata Kids' Judo classes for young kids and families that will be structured a little different to keep the kids' attention and make the experience fun and playful.
Coach Decker: Thanks! I'm excited about it. Like we discussed earlier, family fitness is really important in helping to support a healthy lifestyle for everyone in the family and it's a great way to bond. In my experience, Judo has a unique ability to prepare kids for overcoming obstacles. They learn how to be aware of their surroundings and other people, respond appropriately to situations, and do so in the most effective way possible with the least harm to themselves and others. They are able to build confidence in their strength, abilities, and preparedness, while also learning the importance of respect and self-control.
The classes for kids and families will be based in Judo, but they'll have a fun, energetic spin to the traditional katas (training exercises) to keep the little ones interested. Through the Kata Kids program, parents can learn about the philosophies and techniques behind the katas in their own lessons, and then help to teach the kids and reinforce the lessons that we learn together. I'm a big believer in using athletics to create teachable moments where we can talk to kids about common challenges and how to work through them. My 'Kata Kids' Judo program will provide a lot of these valuable moments.
Coach Decker: That's a great question. The answer is yes. As I mentioned earlier, the core idea is to create your own journey toward self-perfection. This is a lesson that has stuck with me and I find it incredibly important for all aspects of life. The more you focus on bettering yourself, the greater your experiences will be, and the less concerned you will become with trivial issues. Each day, each obstacle, and each celebration becomes an opportunity to grow. Through this practice, students will also realize that we become stronger in helping to raise each other up – a lesson that is emphasized through the family program.
There are many more philosophies and mindfulness techniques that go along with the practice of Judo, Kickboxing, and Self-Defense. Most of my lessons will include these ideas to help my students to understand the mindset of the practice, purpose of the moves, and appropriate application of these skills in real life.
Coach Decker: Thank you! I look forward to that as well.