I am so happy I wrote this article on the Fitbit.  I knew this little device had many fun and fantastic features to keep people healthy, but I didn't realize just how true this was until I did more research.  Over the years, I have had many friends who would tell me they were buying one.  I would nonchalantly say, "Oh, that's cool" and then never think about the device again.
Well-  I am now a believer and my Fitbit is on the way.  For those of you that are not convinced either, my hope is that after reading this article you will at least consider buying one.  Overall, the Fitbit is a great tool in helping you reach your fitness goals and can also track other important aspects of your life such as sleeping.
There are many types of fitness trackers; for the purpose of this article, I narrowed the list down to the Fitbit Flex.  For the number of features and the value a Fitbit provides, the price cannot be beat. Fitbit: from $30- $230.   Your life:  priceless …..
Features of a Fitbit
Getting Started
The setup is simple; the only instructions are to log on to the Fitbit website to set up an account and download the software.  You will be up and running in no time- (no pun intended).   After you plug the wireless USB device into your computer, the tracking device in the bracelet will periodically upload your data to the Fitbit when you are near your computer.  Syncing the data through your Smart Phone is another option.
Tracking Exercise and Fitness
The SmartTrack feature distinguishes and records certain exercises to make sure you get credit for your most active moments of the day.  When you wear the Fitbit and are involved in a high intensity activity that is 15 minutes or more, the tracker automatically records the activity in your exercise history.
With the MobileRun feature, you can use the Fitbit app on your mobile device to generate maps of your activity.  The MobileRun can also calculate distance, elevation, and the pace for your run, walk, or hike.  When you are finished with your workout, you'll find the data and a GPS map of your route in the exercise history.
One of my favorite features on this Fitbit is the option of having hourly activity goals.  Research proves that sitting for long periods of time is linked with a higher risk of heart disease, diabetes, and obesity just to name a few. The goal is 250 steps per hour which is equivalent to only a few minutes of walking. I know I'm guilty of sitting down at my computer for hours at a time.  Your tracker is a great motivational tool because you have an activity tile on your dashboard which shows if you are meeting your goal.  With Fitbit, you can also set other health and fitness goals including sleep and water consumption.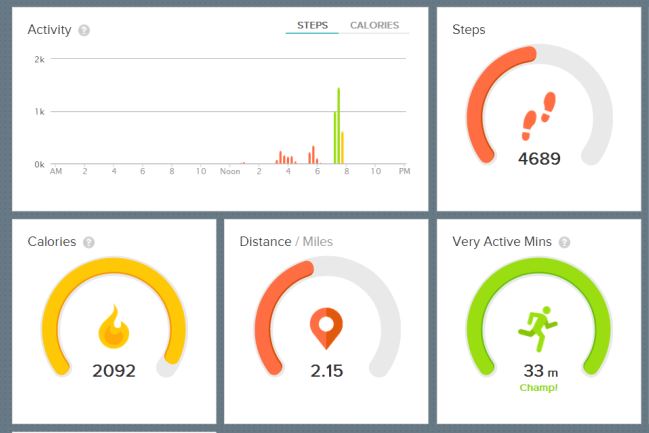 Food and Calories
The Fitbit can estimate the number of calories burned through taking into account your BMR (basal metabolic rate), activity recorded, and any exercises you have logged manually.  The calorie count on the tracker resets every night and begins counting immediately after.  You also have the option to create, edit and manage food plans.  Having a food plan can help you to achieve and sustain your weight goals.  You log your meals each day and then track your progress towards your goal based on the number of calories you've taken in and how many you've burned.
From the fitbit.com dashboard, you can create a food plan, log your food, and monitor your progress.  Once you have set your food plan, you'll be provided with an estimate of your daily calorie consumption and will get a real-time comparison of the calories you've had in your diet versus those you have burned.  Oh-and of course don't forget about drinking a lot of water! The Fitbit makes it easy to log and track how much water you drink.  You set the goal and then with the tracker you can make sure you are drinking enough water every day.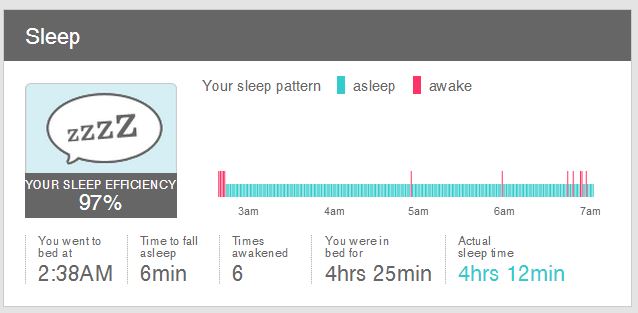 Sleep
If you have trouble sleeping, this feature could be one of the most valuable for you!  The Fitbit automatically detects your sleep patterns.  When your body is at rest, the tracker records that you are asleep.  The data will show you the time you spent awake, asleep, and were restless.  The restless state of sleep shows you moved from a restful position to one involving greater movement.  If the trackers shows a lot of movement and that peaceful sleep is not possible, the graph shows you were awake.
So just have a Fitbit
What other fitness tool can provide you with a resource to set fitness goals, track calories, establish a food plan, and track your sleep?  The Fitbit is amazing at managing your fitness related goals and  provides a holistic view to see how all the parts work together.  This bracelet packs a powerful punch; the best things really do come in little packages.